Detailed Restitution,
Beyond Expectations
Through almost four decades of experiences behind some of the world most renown tweeters, Daniel Emonts pushes the standard to an extraordinary level and proudly presents our 28mm (1 1/8") soft-dome RASC tweeter with various unique technologies inside.
ASYMMETRIC DOME SUSPENSION
The asymmetrical suspension provides a more linear resonance-free guiding of the dome.
A soft dome works as a piston in low frequencies (1 – 8kHz), above that, the centre of the dome stands still (at last should be, depends on the quality of the coating, both how it's applied and the recipe)
The more higher frequencies are reproduced the less the dome itself emits sound. At very high frequencies, only the area around the voice coil (on both the dome and suspension) emits sound.
The custom shape of the suspension helps to have a better dispersion, as waves travel freely to the side
After hundreds of hours of experiment, our very own coating recipe brings perfect break-up control and the most accurate, smooth sound reproduction.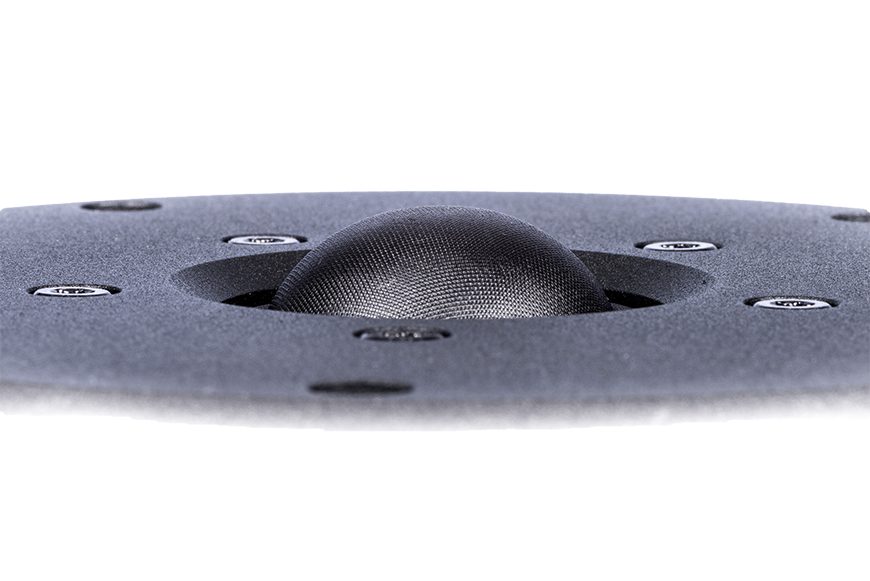 OUTPERFORMING LARGE FERRITE MAGNET SYSTEM
The large ferrite offers a high magnet force, similar to smaller neodymium magnets, but for a significantly lower cost (which helps us achieve to set a more attractive retail price).  It is as well more eco-friendly using ferrite magnets. 
A comfortable efficiency of 91dB is reached with this system. Also, the large mass of ferrite and the metal part absorbs more heat from the voice coil and helps for better cooling.
BCD (BACK CHAMBER DAMPING)
RESONANCE-FREE DESIGN
Large Back Chamber,
With Special Simulated Asymmetric Rim Construction
Made from structured rigid plastic, the design of the asymmetric rims is precisely simulated for the purpose of resonance absorption.
Through BCD, it helps to get a low resonance frequency of 560Hz.